0:00/4:19

0:00/3:54

0:00/5:25

0:00/4:45

0:00/5:09

0:00/5:31

0:00/4:19

0:00/4:33

0:00/4:20
Steve Roth - indie/alt/folk/rock
Top Original Acoustic Solo - Buffalo Music Awards (2004)
"A sterling blend of folk traditions, pop smarts, and modern rock flourishes." - The Buffalo News
Listeners find the music familiar yet fused with something new. Whether performing covers or originals, you'll find subtle twists and hints of mystery. Drawing on influences like Tom Petty, Counting Crows, and Eddie Vedder, songs are re-tooled, reinvented, and reinvigorated.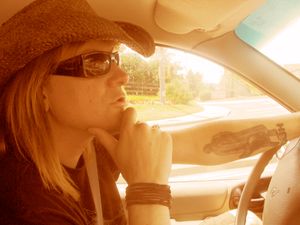 "Temptation, salvation, desire - the sacred and the profane - are great tools and themes. Something I have a lot of experience with. And vulnerability is essential to great performing and songwriting."
Original music includes the independently released disc, beautiful addiction. It was recorded and produced with Dove Award winning producer/enginner Armand Petri, (Goo Goo Dolls, 10,000 Maniacs, Sixpence None the Richer, etc.). It's pretty much naked veins and raw nerves wrapped around an acoustic guitar in an easy listening kind of way.
"Another album of originals (mostly) is if I should stumble, a collection of songs with my wife, MJ (Meredith), under the name, The Hangman's Beautiful Daughter. It was also produced by Armand with a bit more of an Americana edge. It includes duets of Johnny Cash's Jackson, and the stark and hauntingly beautiful, Wedding Dress, by Derek Webb."

People like to think that singer-songwriters are a dime-a-dozen but really good ones are a lot rarer than that. Case in point: singer-songwriter Steve Roth...The recording is alternately lush and bare-bones and exhibits Roth's penchant for writing melancholic melodies and joyously upbeat anthems. - Artvoice

Roth, along with Armand John Petri, produced one of the most dynamic CD's of the year. Introspective, insightful and great guitar playing to boot shows why Roth is a winner at this year's Buffalo Music Awards. - Night-Life Magazine
Sample Cover Song List (4+ hours possible)
Thank You - Led Zeppelin
Iris - Goo Goo Dolls 
Shivers - Ed Sheeran 
Big Hard Sun - Eddie Vedder
Traveling Alone - Jason Isbell 
Drift Away - Dobie Gray 
A Long December - Counting Crows 
Ain't That Lonely Yet - Dwight Yoakam 
Use Somebody - Kings of Leon 
Wildflowers - Tom Petty 
Bad Blood - Taylor Swift 
Forever Young - Alphaville 
Fields of Gold - Sting 
Wrecking Ball - Miley Cyrus 
Sister Golden Hair - America 
I and Love and You - Avett Brothers 
Where the Streets Have No Name - U2 
Heroes - David Bowie 
I Shall Be Released - Bob Dylan 
Fire and Rain - James Taylor 
Fake Plastic Trees - Radiohead 
California Stars - Wilco 
Turn the Page - Bob Seger 
Hey Hey, My My - Neil Young 
Rockstar - Nickleback 
Where Are You Going - Dave Mathews 
Deeper Than the Holler - Randy Travis
Old Town Road - Lil Nas X 
Folsom Prison Blues - Johnny Cash 
Jane Says - Jane's Addiction 
Message In a Bottle - Police 
Cumbersome - Seven Mary Three 
A Pirate Looks at 40 - Jimmy Buffet 
No Woman No Cry - Bob Marley 
All Summer Long - Kid Rock 
Shallow - Lady Gaga 
Suspicious Minds - Elvis Presley 
Push - Matchbox 20 
Home Sweet Home - Motley Crue 
Black River Killer - Blitzen Trapper 
Wagon Wheel - Old Crow Medicine Show 
Watch Over You - Alter Bridge 
I Will Follow You Into the Dark - Death Cab for Cutie 
Last Kiss - Pearl Jam 
Viva la Vida - Coldplay 
Landslide - Fleetwood Mac 
I Will Survive - Gloria Gaynor 
Across the Universe - Beatles           etc.