beautiful addiction
Steve Roth
0:00/5:49

0:00/5:31

0:00/4:45

0:00/3:31

0:00/4:37

0:00/4:19

0:00/3:58

0:00/4:14

0:00/2:57

0:00/3:06

0:00/3:53

0:00/5:49

0:00/4:54
if I should stumble
The Hangman's Beautiful Daughter
0:00/4:40

0:00/3:22

0:00/4:20

0:00/2:20

0:00/3:39

0:00/2:53

0:00/4:00

0:00/5:06

0:00/5:05

0:00/4:27

0:00/3:57
---
Physical copies of "beautiful addiction" and "if I should stumble" are available directly from the band for $10 at any of their live shows. They can also be purchased at CDBaby.com. 

Individual downloads are available right here or through iTunes, Amazon.com, Rhapsody and other quality music sites.

---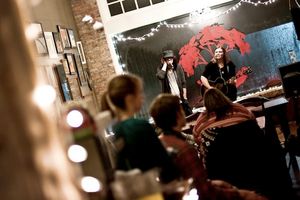 ---
Download for free a podcast of the Hangman's Beautiful Daughter's
performance at Red Tree Coffee in Kingston, TN from Jan. '10.
---