Awarded the honor of Top Original Acoustic Solo from the Buffalo Music Awards in 2004.
"A sterling blend of folk traditions, pop smarts, and modern rock flourishes." - The Buffalo News
Listeners find the music familiar yet fused with something new. Whether performing covers or originals, you'll find subtle twists and hints of mystery. Drawing on influences like Tom Petty, Counting Crows, and Eddie Vedder, songs are re-tooled, reinvented, and reinvigorated.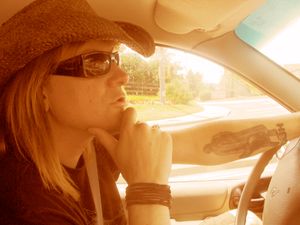 Temptation, salvation, desire - the sacred and the profane - are great tools and themes. Something I have a lot of experience with. And vulnerablity is essential to great performing and songwriting.
Original music includes the independently released disc, beautiful addiction. It was recorded and produced with Dove Award winning producer/enginner Armand Petri, (Goo Goo Dolls, 10,000 Maniacs, Sixpence None the Richer, etc.). It's pretty much naked veins and raw nerves wrapped around an acoustic guitar in an easy listening kind of way.
Another album of originals (mostly) is if I should stumble, a collection of songs with my wife, MJ, under the moniker, The Hangman's Beautiful Daughter. It was also produced by Armand with a bit more of an Americana edge. It includes duets of Johnny Cash's Jackson, and the stark and hauntingly beautiful, Wedding Dress, by Derek Webb featuring MJ.
A couple new EPs are in production.

"People like to think that singer-songwriters are a dime-a-dozen but really good ones are a lot rarer than that. Case in point: singer-songwriter Steve Roth...The recording is alternately lush and bare-bones and exhibits Roth's penchant for writing melancholic melodies and joyously upbeat anthems." - Artvoice

"Roth, along with Armand John Petri, produced one of the most dynamic CD's of the year. Introspective, insightful and great guitar playing to boot shows why Roth is a winner at this year's Buffalo Music Awards." - Night-Life Magazine